DEATH TO CORPORATE ART
REVOLT IN STYLE MAGAZINE
SPRING 2001
By Kent Bates
Radioactive Future is a terminology that is hard to dismiss; it burns into the mind long after it rolls off the tongue. The artists represented on this site are searing with the same fiery intensity as the expression suggests.
Take a moment to imagine what the earth would look like with men in orange suits running around, scooping up radioactive waste. Imagine a sea full of contamination drums, sporting the biohazard symbol spray-painted on their sides, with no recognizable signs of life anywhere. Not a very pretty picture, is it?
Pierce Williams founded radioactivefuture.com a little more than a year ago in San Diego. Born of the overwhelming need to help contemporary artists gain recognition, Radioactive Future has provided a respectable and prominent home on the Internet for their artists, and have also organized and promoted live shows. Their philosophy is simple: Death to Corporate Art.
As Pierce offers, matter of factly, "Most art is lame." I affectionately call it "blah-art". Art isn't just for beauty and all things pretty; it can be scary, or though provoking. Unfortunately, corporations in particular seem to have an incredibly difficult time in risking what they are willing to grace their wall space with.
Some of San Diego's most notable talent are represented on this website. Douglas Thompson, Tim McCormick, Peter Halasz, and Shepard Fairey are among the featured artists. As visitors view skateboard art, damaged metal sculpture, and original paintings, they will surely find some work that will give them pause to think "Wow…San Diego has something a-brewin'!"
If you are interested in attending one of Radioactive Future's shows, access the site's events page for updates on the latest happenings and openings. The artists on the site are posessed with an incredible amount of creativity and humor that is worth investigating. Additionally, most of the artists have persevered beyond the typical doldrums of San Diego's art scene, and have been showing here in town for years. I hope you enjoy their site as much as I do.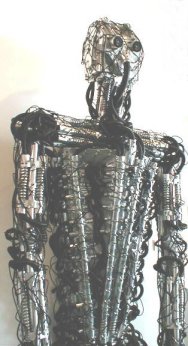 Robot Warrior
of the Radioactive Future
by Pierce Williams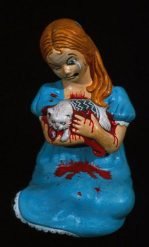 The Day Daddy Backed the Station Wagon over Snowball
by Douglas Thompson x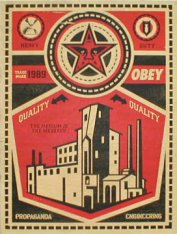 Obey Factory
by Shepard Fairey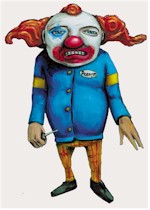 Surf Illustration
by Tim McCormick