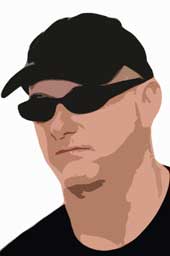 Photo by Derek Plank
Pierce Williams has worked in a variety of media, including sculpture, stencil prints, silkscreen prints and clothing, rock posters, and web/graphic design.
He has curated over 40 art exhibitions. His work has been shown on national television and throughout the United States, as well as; Japan, Spain, Iceland, Italy, Belgium, and The UK.
The artist's work features his new technique of creating fine art prints by hand, with a plastic stencil, silkscreen ink, and roller brush.
He has designed hundreds of rock posters for various bands and venues.
Stencil print process.

ORDERS
check / money order / credit card
4-6 weeks delivery
free shipping in USA
Pierce Williams
PO Box 2252
Vista, CA 92085
CONTACT